This course is the second required course for the 2021 Certificate Program In Nonviolence Studies. It runs from July 21-September 8.
To register for the Certificate Program, go here.
This course will explore the intersections between nonviolence and feminism especially through the lens of alternate cosmologies, narratives, and imaginaries. Although not often looked at together, both nonviolence and feminism critique not just physical violence but structural and systemic ones as well.
In this course, we will try to understand some of these structures and systems, such as patriarchy, racism, and imperialism, in order to know how to resist and create alternatives to them.
Because the framework of nonviolence and feminism both call for alternate systems or "new cosmologies," we will closely read classical and avant-garde feminist texts, novels, and films—including texts by Leela Fernandes, Judith Butler, Barbara Deming, Veronica Gago, Robin Wall Kimmerer and Joan Slonczewski—in order to grasp the how they shift our given ways of understanding.
The end goal of the course is to see how alternate meaning-making frameworks are the prerequisite to transforming ourselves and the world.
Understanding the frameworks of nonviolence and feminism is especially important today as this world crisis also presents us with the unique opportunity to create the new "normal" of our aspirations.
This course is in total eight weeks long (seven weeks of study plus one extra week of project exploration). In addition to course readings and videos, we will meet on Wednesdays from 5-6:30 PM PST and on Saturdays from 10-11:30 am.
This is largely a discussion-based course so attending in-person (on Zoom) meetings is very important.
Your Instructor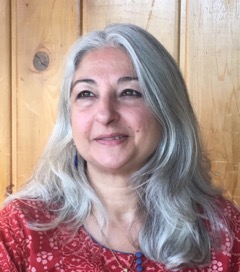 I am an independent scholar and educator, and my work focuses on exploring the many meanings of nonviolence. I obtained my doctoral degree from the Department of Comparative Literature at the University of California, Los Angeles, where I also taught classes on the literature of nonviolence. I am currently working on my book manuscript, "The Ecstasy and Anarchy of Nonviolence: The Khudai Khidmatgar Resistance in the North-West Frontier of British India," that reads the Pashto literature of a popular, nonviolent movement led by Abdul Ghaffar Khan, also known as the Frontier Gandhi and Bacha Khan. In my book manuscript, I especially focus on the women poets who engaged in a spirited literary resistance but who have been historically silenced even more deeply than has this unique nonviolent movement. Therefore, I also look at systemic, structural, and physical forms of violence that produce such silences and invisiblize resistance. I do this work not only for academic reasons but to understand the multivalent forms and ambitious scope of nonviolence so that I can both resist and find ways to change the given system. More importantly, I want to learn how we can create alternate cosmologies and transform ourselves, because, I strongly believe, that inner or self-transformation and outer or world transformation are part of the same process.
"It is the latter sense of nonviolence, as an ecstatic awakening to the truth, or as mystical enlightenment, that creates the paradox of an enlightened nonviolent warrior…"
~Safoora Arbab, "The Ecstasy and Anarchy of Nonviolence: The Khudai Khidmatgar Resistance in the North-West Frontier of British India" (Ph.D. Dissertation)

A Path of Self-Discovery
"At one level, feminism becomes the means for the decolonization of the divine."
Leela Fernandes, Transforming Feminist Practice: Nonviolence, Social Justice and the Possibilities of a Spiritualized Feminism
"In response to the objection that a position in favor of nonviolence is simply unrealistic, this argument requires a critique of what counts as reality, and it affirms the power and necessity of counter-realism in times like these. Perhaps nonviolence requires a certain leave-taking from reality as it is currently constituted, laying open the possibilities that belong to a newer political imaginary."
Judith Butler, The Force of Nonviolence
"Most sustainable cultures, in all their diversity, view the earth as terra mater (mother earth). they gratefully receive nature's gifts and return the debt through ecologically sustainable lifestyles and earth-centered cosmologies. The colonial construct of the passivity of the earth and the consequent creation of the colonial category of terra nullis (empty-land), served two purposes: it denied the existence of prior rights of original inhabitants and it obscured the regenerative capacity and processes of the earth."
Vandana Shiva, Earth Democracy: Justice, Sustainability and Peace
"The [feminist] strike also exceeds and integrates the labor question because we are striking against the structures and the mandates that make capital's valorizations possible…The mandates respond to the very imbrication of patriarchy, colonialism, and capitalism. Elements considered to be "noneconomic" are key to feminist economics as an expanded and radical critique of the patriarchal notion of the 'economy.'" (16)
Veronica Gago, Feminist International: How to Change Everything
This course is closed for enrollment.