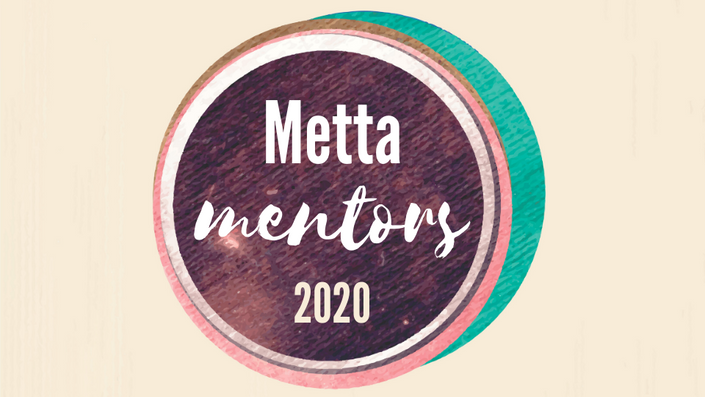 Let's navigate the many changes ahead with our utmost intention and compassion.
We're at a crucial turning point: the pandemic, along with criminal justice issues, give us an opportunity to reset the image of human beings and our place in the world. By anchoring in the practice of nonviolence, we can move through uncertainty with calm minds and open hearts.

The central question in Metta Mentors 2020 is: "How do we not go back to business as usual?" This program is for anyone who seeks a gentle approach to personal growth while also feeling called to participate in building a more harmonious world.

Metta Mentors is the 2020 version of our Certificate in Nonviolence Studies program, retooled to serve this particular moment. We welcome past participants of the Certificate program, as the material is completely new.
Program materials are included in the enrollment fee. Interested in CEUs? Wondering about discounts or scholarships? Please see the FAQs below.

Enrollment closes on June 20, 2020. Participation is limited to 15 people, to provide a rich mentorship experience.
What to Expect
Throughout this online program, you will be mentored in the philosophy and practice of nonviolence. All participants will apply the learning through their own projects, with project guidance available from the start of the program.


We will alternate between week-long intensives and self-experiment weeks, ensuring plenty of time to process/integrate material. For each intensive week, you will focus on a new resource and have at minimum one 30-minute 1-on-1 meeting with the Metta Center. In self-experiment weeks, you will explore links between personal nonviolence and taking meaningful, efficient action.

Program Schedule

Orientation
June 25 – 28
Get early access to starting material. Count on an inclusive and safe learning environment.


Week 1 Intensive: Foundations – Nonviolence and the New Story
June 29 – July 5 (self-experimenting: July 6 – 12)
Your resource will be Michael Nagler's latest book, The Third Harmony: Nonviolence and the New Story of Human Nature.

Week 2 Intensive: Variations on the Experience of Nonviolence
July 13 – 19 (self-experimenting: July 20 – 26)
You will watch The Third Harmony documentary by the Metta Center (an exclusive viewing, as the film isn't publicly available yet).

Week 3 Intensive: Case Study – Climate Activism With Heart
July 27 – August 2 (self-experimenting: August 3 – 9)
Daniel Hunter's Climate Resistance Handbook, with its Introduction by Greta Thunberg, is this week's resource. Daniel will be our guest facilitator this week.

Week 4 Intensive: Cosmic Peaceforce Training Camp
August 10 – 16 (self-experimenting: August 17 – 23)
Are you ready for Mission: Harmony 3? Find out as you play the Metta Center's nonviolently entertaining board game, Cosmic Peaceforce.

Week 5 Intensive: Putting the New Story to Work
August 24 – August 30
This last week is all about your role in the New Story. So, you will finalize and submit your project/project proposal.

Frequently Asked Questions
When does the program start and finish?
Metta Mentors 2020 opens with a brief orientation period (June 25 – June 28). The program formally begins on June 29, 2020 and ends on August 30, 2020. We will accept program sign-ups through Saturday, June 20. Please note that since participate is limited to 15 people, we may close registration earlier if we reach our maximum before then.
Who is this program for?
Do you seek a gentle approach to personal growth? Do you feel called to take meaningful action towards a more harmonious world? Then this program is for you. We welcome all levels of nonviolence learning/practice, from beginner to experienced.
What do I need to take this program?
You'll need a reliable internet connection and a minimum of 2–3 hours each week for learning and experimenting (the more time you can put in, the better. You'll have lifetime access to the program, so you can return to it as much as you'd like). Our mentorship meetings take place over Zoom or phone. We will provide you with a Welcome packet and all program resources (by post, link, and/or PDF; depends on your location).
Do you offer discounts and scholarships?
The Metta Center's monthly donors can receive a discount in the amount of their donation level (eg $20/month is a program discount of 20%). Our paid programs support our nonprofit work, yet no one will be turned away for lack of funding. Please email us to if you need a scholarship or would like a donor's discount, and we'll help you get signed up (not a monthly donor? Become one today and get the discount):
[email protected]
Can I pay for the program in installments?
Absolutely. Please see the enrollment options below. If another payment schedule would work better, let us know:
[email protected]
What is your refund policy?
You may request a refund, minus the cost of any materials that may have been sent to you, until registration closes on Saturday, June 20, 2020. Our program limit of 15 participants means that we won't be able to issue refunds after this date.
How can I earn continuing education credits?
Completion of this program qualifies for up to 10 CEUs. Please email us for more details, as we may have questions and/or personalized instructions for you:
[email protected]