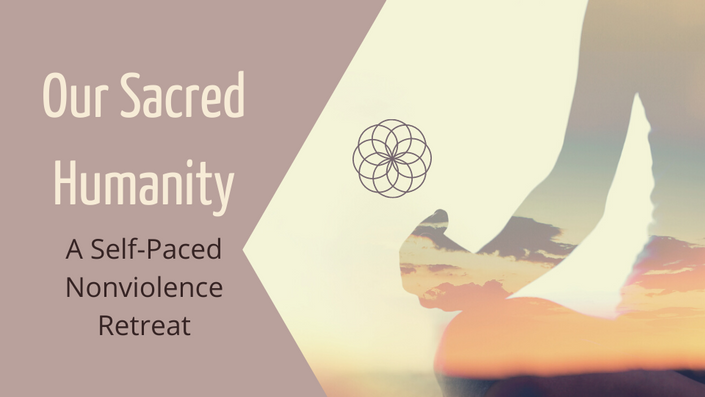 Our Sacred Humanity
A Self-Paced Nonviolence Retreat
Each One of Us Has a Sacred Purpose to Fulfill

The day was dying, the night being born—but with great peace. Harmony, that was it! It was a feeling that transcended reason; that went to the heart of one's despair and found it groundless. The universe was a cosmos, not chaos; [a human] was rightfully part of that cosmos as were day and night. —Admiral Richard Byrd, describing an experience he had while spending a winter alone on a weather base in the Antarctic

---
A Call to Check In

Though crisis after crisis is mounting, we can—and must—take creative, constructive action. Through the intentional, purposeful practice of nonviolence, we can address today's most urgent problems at their root: the misleading, demoralizing story of materialism and separateness, a story that science and traditional wisdom now reject.
But tapping into that heightened awareness, this new story, is an incredibly difficult task when we don't allow ourselves to process, restore, and reflect, something that the "old story" and its hold on Reality often keeps us from doing. It's an essential part of processing new information and new experiences that speak to our deepest self. We must allow ourselves to retreat and RE-STORY over and over again with determination and purpose. It's not "checking out" but "checking in," a duty we owe to ourselves and one another.



Our Sacred Humanity is designed to help us more fully engage with the major shift happening around us today—the arising of a new story, in which our lives hold intrinsic value and are fundamentally interwoven with the planet and one another, a unity we can realize within (the Third Harmony). Human beings, both individually and collectively, have a noble purpose in this time of "Great Turning."
An important part of that shift we can learn to recognize and participate in is the inspiring rise of nonviolence theory and practice.
This online retreat will give you the philosophical tools to acknowledge and interpret nonviolence around you and within yourself. Practical, self-reflective exercises will help you apply nonviolence in day-to-day life. Each program participant will receive a 30-min, 1-on-1 mentorship session with Michael Nagler, Professor Emeritus at UC Berkeley and Founder of the Metta Center for Nonviolence.
The human image, and our purpose, has reached a crisis point. Our Sacred Humanity provides a path of potential and centeredness, and space to explore that "still small voice" which is drawing us toward something noble and beautiful for ourselves and our world.

Our Sacred Humanity is now open for enrollment. If you are a Metta Center monthly donor, please email us for a discount code before enrolling: [email protected]

Your Instructor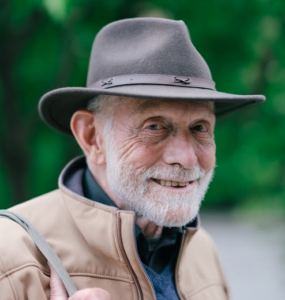 Our Sacred Humanity is an online, self-paced retreat consisting of 4 "paths" into ourselves that tap yogic philosophy. Each path offers a unique set of tools to come into gentle contact with a greater awareness of harmony within and around us. The program includes insightful multimedia (including Michael Nagler's book The Third Harmony) that will help you sharpen your analytical skills. Reflective practices and mentorship will encourage you to weave your learnings into your daily experiences.


Community plays an uplifting role in Our Sacred Humanity. While this retreat is for YOU and is largely self-guided, post-retreat community forums will give you the opportunity to connect with others around meaningful questions. In these spaces, you will be able to engage in ongoing discussions about nonviolence case studies or join others in brainstorming solutions to today's challenges.
Frequently Asked Questions
When does the retreat start and finish?
The retreat begins when you start it. There's no set completion date—you set your own schedule. Since the retreat doesn't expire, you can return to material as often as you'd like, even after you've finished the retreat.
Who is the retreat for?
This retreat is ideal for those who want to take a step back and do serious in-depth exploration around the new story of humanity and how it relates to your life, your higher purpose, and the call to draw upon nonviolence as a tool for the unification of consciousness. Participants are prepared and motivated to set aside time for self-paced exploration. Prior experience with nonviolence studies/practice is not required.
Must I know anything about yoga to enroll?
Not at all. Our approach to nonviolence draws from the wisdom traditions of the world where they meet the foundations of modern science. We take inspiration from Mahatma Gandhi, who was what's known in India as a "karma yogi," a person who attained Self-Realization through the path of selfless service. So while yoga is the philosophical backbone to this retreat, the focus is learning and practicing nonviolence. There are no yoga lessons involved, either in the form of asanas (physical stretching exercises) or formal lessons in meditation (an original meaning of yoga in India's spiritual tradition).
How much time should I plan to put into this?
We recommend a minimum of 2–3 hours each week for learning and experimenting. The more time you can give to it, the better. There's really no rush or pressure, however. We encourage you to absorb the concepts at your own pace.
How does a private mentorship session work?
Your 1-on-1 mentorship session will take place over Zoom or phone. You may schedule your 30-minute session at any point during the program. Instructions for doing that are provided inside the program.
Do you offer discounts or scholarships?
Our paid programs support our nonprofit work. Please email us if you need a scholarship or would like a donor's discount, and we'll help you get signed up (not a monthly donor? Become one today!):
[email protected]
Can I pay for the retreat in installments?
Absolutely. Please see the enrollment options below. If another payment schedule would work better, let us know:
[email protected]