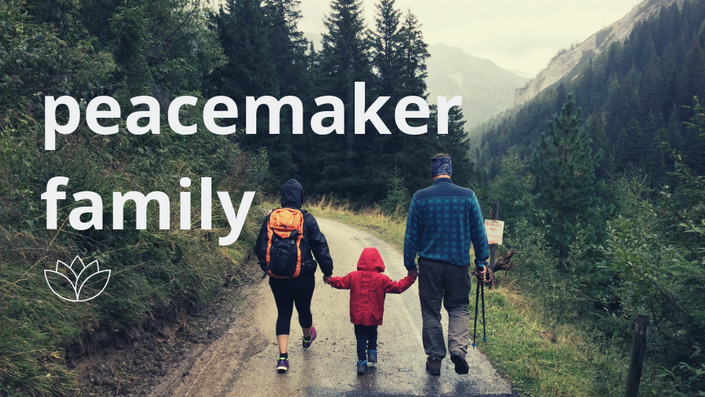 Peacemaker Family
Explore how your family can thrive as a loving force of nonviolence, in your home and in the rest of the world.
Building a Nonviolent World, One Family at a Time
Nonviolence is not just for marches and bringing down dictators, but for transforming our personal lives too. Our families play an important role in creating a peaceful world—there's truly no place like home when it comes to putting nonviolence into practice.
Peacemaker Family is a unique program for families of all kinds. It invites you to spend quality time together while being highly flexible for busy family schedules. This program is suitable for all ages, even for children as young as 3.
Through various activities, your family will come to define and practice your own values as peacemakers. You're encouraged to be creative with and expand on the activities, especially with younger children.
The more families can practice nonviolence, the greater potential we all have for experiencing lasting peace as a global human family.
"Love is the strongest force the world possesses, yet it is the humblest imaginable."
— Mahatma Gandhi —
Your Instructor

The Metta Center for Nonviolence provides educational resources on the safe and effective use of nonviolence, with the recognition that it's not about putting the right person in power but awakening the right kind of power in people. We advance a higher image of humankind while empowering people to explore the question: How does nonviolence work, and how can I actively contribute to a happier, more peaceful society? The Metta Center holds special consultative status at the UN (Economic and Social Council).
---
About the Program
Peacemaker Family consists of 12 weeks of engaging material. Each week brings you a short video introduction, a short reading with conversation suggestions, and a simple nonviolence practice for your family to have fun experimenting with throughout the week.
Course Curriculum
Introduction
Available in days
days after you enroll
Where to Go From Here?
Available in days
days after you enroll
Frequently Asked Questions
When does this program start and finish?
Peacemaker Family is self-paced—start whenever you're ready. While the program is organized around 12 weeks, we encourage you to go through it on whatever schedule works best for your family. You can come back to the material over and over again, as the program never expires.
Who is this program for?
Any group of people who consider themselves family, from families who are raising children to families of like-minded idealists.
Is this program really FREE?
It sure is! We want families of all backgrounds to be able to enjoy and benefit from it. You will want to purchase a book for the program, but it is very affordable at less than $8. The book is Gandhi Searches for Truth: A Practical Biography of Children. It is available in print and as an e-book at online booksellers.
Can we make a donation to support your nonprofit work?
That would be so helpful! You'll find a link to our donation form in the Connect With Us section at the end of the course. Thanks in advance for your generosity.