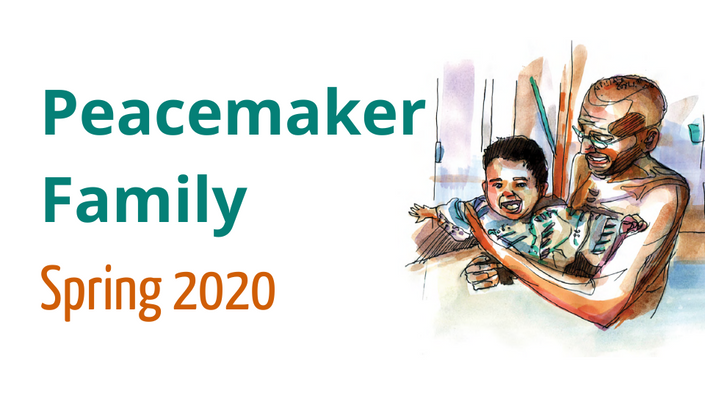 Peacemaker Family Spring 2020
Explore how your family can thrive as a loving force of nonviolence, in your home and in the rest of the world.
The more families can practice nonviolence, the greater potential we all have for experiencing lasting peace as a global human family.
Our families play an important role in creating a peaceful world. When it comes to putting nonviolence into practice, there's truly no place like home—especially in these difficult times.

Peacemaker Family Spring 2020 brings you 12 weeks of hopeful and practical material. Through various activities, your family will come to define and practice your own values as peacemakers.

Each week features a short video lesson, a set of family activities, and tools for developing important skills like conflict resolution and compassion. This unique online program includes biweekly group discussions with the Metta Center for Nonviolence (we're here to support you!).
Let's build a nonviolent world, one family at a time.

"Love is the strongest force the world possesses, yet it is the humblest imaginable."
— Mahatma Gandhi —
Your Instructor

The Metta Center for Nonviolence provides educational resources on the safe and effective use of nonviolence, with the recognition that it's not about putting the right person in power but awakening the right kind of power in people. We advance a higher image of humankind while empowering people to explore the question: How does nonviolence work, and how can I actively contribute to a happier, more peaceful society? The Metta Center holds special consultative status at the UN (Economic and Social Council).
---
Testimonial
"The Metta Center has helped my husband and I understand the importance and mechanics of educating our daughter (age 7.5) in nonviolent conflict resolution. This is both a reflection of our ideals and a very practical matter when it comes to getting more sleep!

Around the time of her fifth birthday, she developed a desire to rise at 4 or 5am. When we tried to discuss the matter, she would typically put her hands over her ears and refuse to listen. However, when we shifted to holding family meetings in which we could brainstorm solutions that meet everyone's needs, she was not only willing but eager to participate!"

– Susan F.

Frequently Asked Questions
When does this program start and finish?
Peacemaker Family Spring 2020 starts on Monday, April 20 and runs for 12 consecutive weeks. We will accept program sign-ups through Friday, April 24.
Who is this program for?
Any group of people who consider themselves family, from families who are raising children to families of like-minded idealists.
Is this program really FREE?
It sure is! We want families of all backgrounds to be able to enjoy and benefit from it. You may want to purchase a couple of Metta Center books used in the program (details inside the course), but we include PDFs of the select material in case it's not possible for you to order the books.
Can we make a donation to support your nonprofit work?
That would be so helpful! Just go to www.mettacenter.org and click the orange Donate button in the upper right corner. Thanks in advance for your generosity.